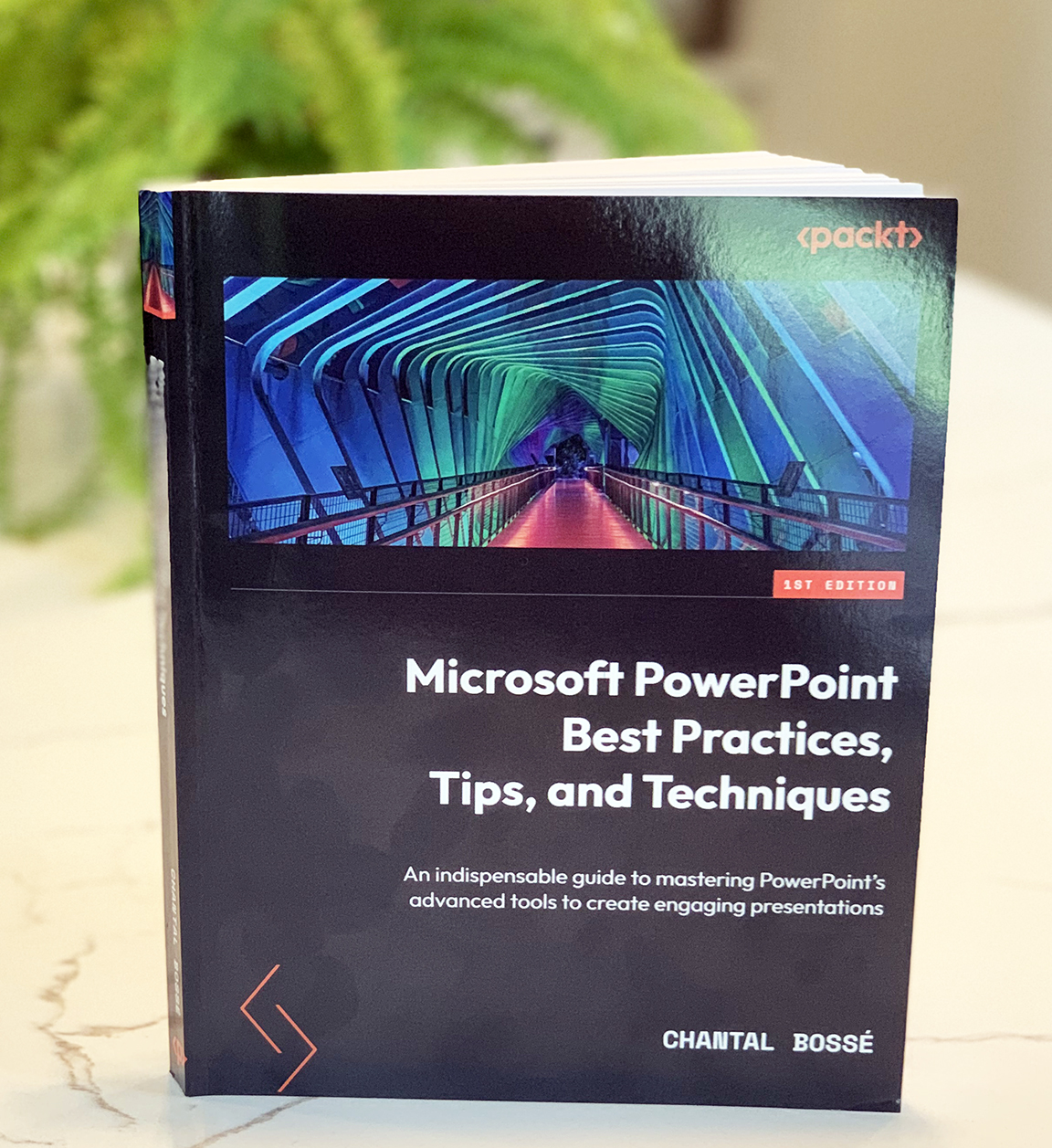 PowerPoint MVP Chantal Bossé published one of the best resources for mastering PowerPoint in 2023—Microsoft PowerPoint Best Practices, Tips, and Techniques.
For over 25 years, Chantal has worked in instructional design and training. She founded CHABOS, Inc., specializing in M365 training and presentation design and coaching. She packs her decades of presentation experience into her latest book. From structuring your message to using PowerPoint's tools, Chantal covers everything you need to create professional presentations.
What we like best about this book are the step-by-step instructions and best practices for using PowerPoint's tools:
Placeholders and layouts
Custom layouts
Notes master and handouts
Shapes and merging tools
Setting up Designer
Inserting and formatting videos
Annotation tools
Zoom feature
Using PowerPoint Live and Microsoft Teams
And much more
Microsoft PowerPoint Best Practices, Tips, and Techniques includes screenshots along with detailed directions to maximize this software's potential. Chantal shows you how to choose the best fonts, declutter your slides, and create layouts with color palettes and themes.
Included is a chapter on PowerPoint third-party add-ins such as BrightCarbon, Neuxpower, PPTools, and even Build-a-Graphic. We were honored to have our product mentioned in her book!
New and experienced presenters will learn techniques to improve their presentation delivery using Slide Show options and Speaker Coach among other resources. Plus, you'll learn to use the Record feature to practice your presentations.
Chantal's Microsoft PowerPoint Best Practices, Tips, and Techniques is indeed an indispensable guide to PowerPoint and presentations.