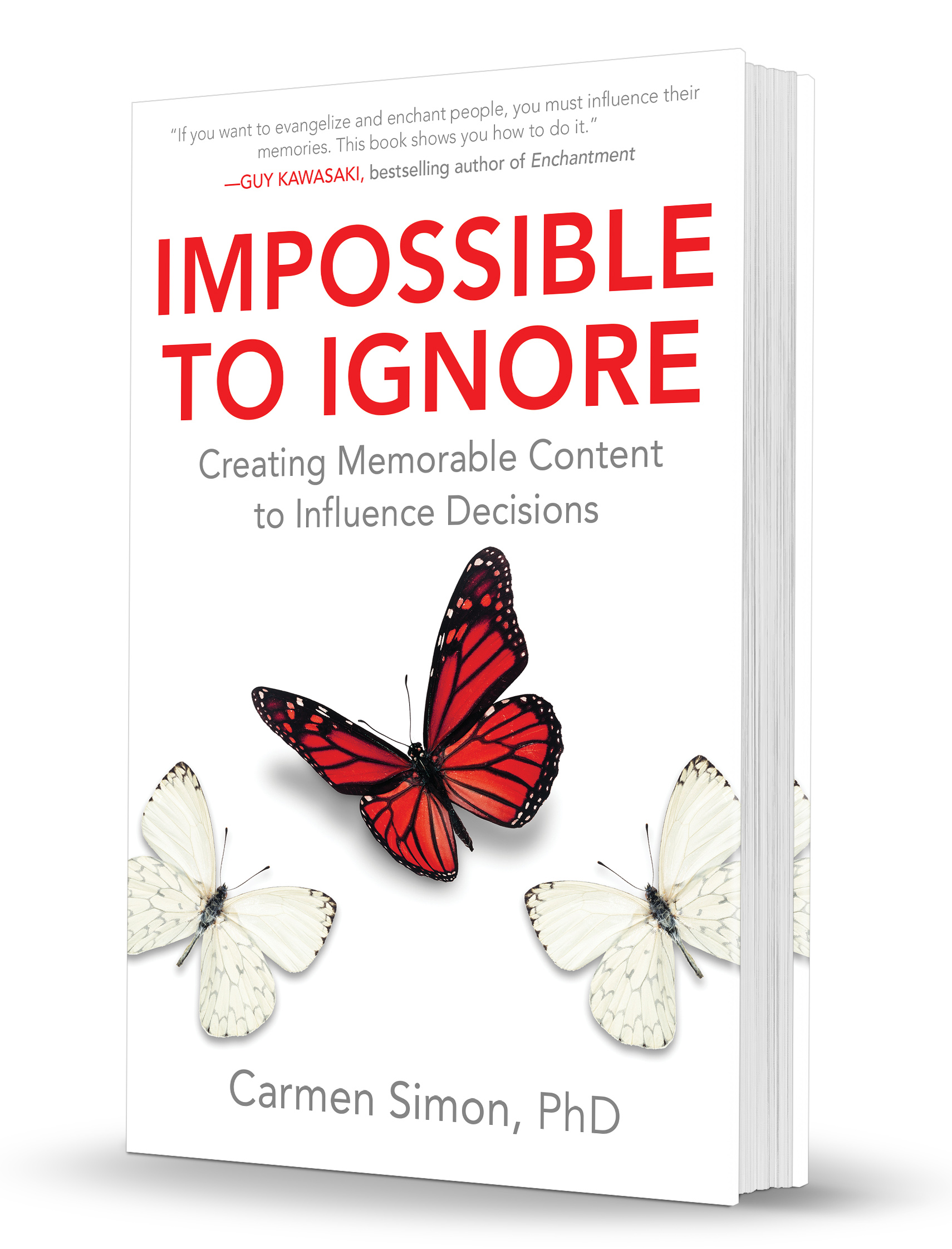 Several years ago, I first attended the Presentation Summit and was blown away by Dr. Carmen Simon's keynote. Using principles of behavioral psychology, a fluid presenting style, and engaging visuals, Dr. Simon captivated and inspired the attendees to rethink how we connect with our audiences to create memorable presentations.
Dr. Simon holds doctorates in both instructional technology and cognitive psychology. She applies her knowledge from both fields to change how the world communicates. Through her company Memzy, Dr. Simon works with worldwide brands to craft memorable messages by focusing on how the brain works.
In her latest book, Impossible to Ignore: Creating Memorable Content to Influence Decisions, she shows marketers, presenters, trainers, and sales people how to be more memorable and reach their goals through neuroscience.
Impossible to Ignore provides practical tools-backed by research in behavioral psychology-to craft memorable messages. What inspired you to write this book? Was there a specific "cue" that prompted you to act on your "intentions"? 😉Definitely! I used to work in the R&D department of a telecom company. Vendors would come to pitch us various products and after a few days of presentations, I realized I could not remember much. To make matters worse, from the little I remembered, I did not know with certainty who presented what. So many messages were so similar that I would have a hard time differentiating between various presenters. This was a shame because someone may have done a good job presenting but when we selected vendors, we may have given credit to someone else simply because we could not remember with precision. So that was my cue: I started asking the question, "Is it possible to influence someone else's memory with precision?" I was not after finding techniques to enable people to remember more things. I wanted techniques to help people remember the right things.
My first question references two of the three "prospective memory" steps described in Impossible to Ignore. You call this model the "modern approach to memory" and describe a simple process for how people remember. Please define prospective memory and give an overview of the three steps.


When we aspire to be memorable, we must understand how memory works. I am a cognitive scientist and I specialize in reviewing or conducting research on mental functions, such as attention, memory, and decision-making. The epiphany I had while conducting research on memory is that memory has evolved not to help us keep track of the past but rather to keep track of the future. Think about it for your own situation: last week, for example, which memory problems did you have? Did you keep forgetting something that had happened 2 weeks prior or did you mostly forget intentions that you set to do, like sending an email before finishing work, or stopping by the store on your way home or picking up dry cleaning on a certain day? We set up various intentions at the beginning of the day or week and we forget. Retrospective memory, which is remembering the past, is useful, but prospective memory, which is remembering to act on future intentions, is useful-er. Especially for business. This is because your prospects, customers, family members-anyone who might make decisions in your favor needs to remember you in the future, where decisions happen. If we use this premise and you imagine that you communicate something at Point A, then you hope that people remember and act at Point B. So then we must ask, "what will likely happen in people's brains at Point B?" The chart below shows three phases that people will likely complete: at Point B, when you are no longer in the room, they may see a cue, they may search their memory and execute on an intention. For example, if you told your spouse to pick up the dry cleaning on the way back home from work, he/she may see a sign toward the shopping center (cue), search their memory (what was I supposed to do? Oh, yes pick up the dry cleaning), and then pull into the parking lot and complete the chore (execute on intentions).


The mistake we often make in business communication is not to be aware of what will likely happen in people's words at Point B and communicate that already at Point A. For example, let's say you are creating a half-day training session on how to use a new software tool. Instead of organizing the content by the typical categories of "intro, software features, business application," consider organizing them by how the tool itself is organized and likely to be used. This way, when people go back to work and they see the tool, parts of it will trigger what they learned and increase the chances of applying the new memories. After all, what good is memory without action?
What is the biggest challenge presenters face when designing content?I think one of the biggest challenges we face is taking charge of what we want others to remember. Take a look at the responses below. They are from a research study I conducted a few years ago, where I wanted to see how many slides people would remember after viewing a deck of 20 slides, each slide containing one message. Participants knew this was a memory study and they had been informed that after they view the file, they would receive a test after 48 hours to check what they remembered. They were asked not to take notes. The findings of the study showed that people remembered on average 4 slides out of 20. This was not surprising. What was surprising was that out of 1,500 participants, 500 remembered nothing. And their "nothing" was not a pure 0. Most things (false memories) were based on content they had seen or heard elsewhere; some admitted their content amnesia with honesty (see some of their responses below). I became very humble after this research as to how little people retain from what we share to them. Just because something is top of mind to you-the presenter-it does not mean that it will stay top of mind for others after you leave the room. And it's unfortunate because people make decisions based on what they remember, not on what they forget.

Stay humble by how much people remember – or rather forget – from your communication materials

What is the most important step that presenters should take to make audiences remember their message?By far the most important part in getting the audience to remember a message is to be clear about what that message is. Audiences, for most part forget about 90% of content after two days; this is based on the forgetting curve-a theory and formula according to which when people view content without the intention to remember, they forget most of that content after 48 hours. Fortunately, the little that stays in our memory tends to stay there for a long time. So being clear about that 10% message is key (let's call it a metaphorical "10%" message because in business, it's almost impossible to place a strict number on how much people really retain). We know it's very little. Clarifying the 10% message is mandatory.

Once we have a clear 10% message and we know what we want to be memorable for, then, hand-in-hand with this principle, goes the element of distinction. This is also mandatory because it is possible that you have a clear 10% message and so do a few other people, and the messages are too alike. In this case, viewers or listeners will not remember who said what, just like I didn't in my previous job. So analyze your message and find places where you can play off the familiar, where you can deviate from patterns that your audiences have learned to expect.

For example, I was browsing through a web site the other day and a few things caught my attention-things that I typically don't even focus on. Notice in the screen shots below how they are messing with our expectations. Typically, we process the concept of change from left to right (like the past is normally represented to the left and what happens in the future is to the right). When they mention the sales, they mention first the current price and then the older price. That made me do a double-take, therefore extra attention. Typically, when you're asked to type an email, you're provided with a box. This site simply has a line, almost symbolizing the act of "signing above the line." And typically, when you click on something that is enlarged in another window, the close button looks like an X. On this site, it looked like an eye that's shut. Cute and deviant from a pattern I've learned to expect. If you're soon to build a new site for yourself these novel design ideas might be something you want to discuss with your website builder. Especially if you want to adopt tactics similar to these to get your products or page more attention than the average person normally gives, you might also want to compare different domain providers, considering site reliability is directly linked to user experience also.



What elements can you find that help you deviate from a pattern, like they did with the close button in this example?

Reflecting on our own content, if we want to become memorable, it's beneficial to keep thinking how we can twist the familiar just enough to get the extra attention without being annoying.

We are excited for your keynote at The Presentation Summit in October. Can you give us a teaser about your topic?


Well … speaking of annoyance … one of the topics that I receive a lot of questions on is repetition. There is no secret: repetition is the mother of memory. Once you have a clear, distinguished 10% message, you must repeat it often enough where people have increased chances to store it long-term. However, there is a fine line between repetition and annoyance. So the question becomes: how do you repeat something to become memorable but not run something into the ground or sound like a broken record? What, when, and how much to repeat to stay on people's minds will be questions that I will answer during the keynote.
Save
Save
Save
Save
Save
Save
Save
Save
Save
Save
Save
Save
Save
Save
Save
Save
Save
Save
Save
Save
Save
Save
Save
Save
Save