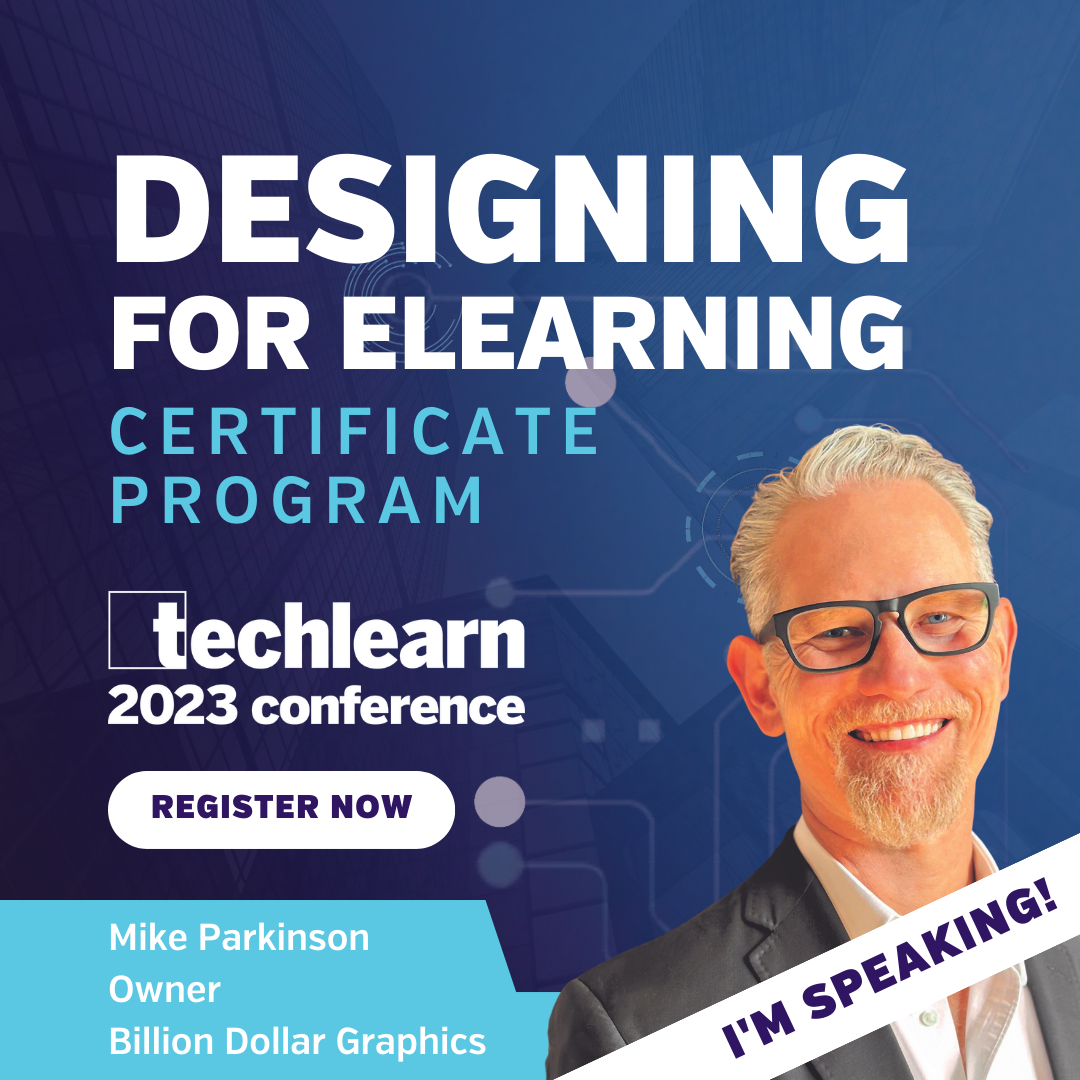 TechLearn 2023 Conference
Designing for eLearning Certificate Program
September 18–19, 2023
9 am– 4 pm CDT
Use code CSP01 to save $150!
We see proof everywhere we look that we live in an at-a-glance society — in social media, advertising, books, television, email, signs, software, and websites. Learners no longer expect information to be succinct and clear — they require it.
At Training magazine's TechLearn conference, learn how to make professional visuals for learners with Mike Parkinson. Mike is giving a pre-conference session where you will earn a signed certificate of completion along with a digital eBadge from Credly. Get certified with Mike's two-day eLearning graphic program—Designing for eLearning Certificate.
No visual design experience needed. Whether you work on design and development of customer education online, staff training in the classroom, or elearning courses, this workshop is for YOU. Mike will teach you the following:
Presentation and infographic design
How to make complex content easy to understand for all learners
Storytelling tips and animation techniques
PowerPoint tips and tricks
Get hands-on experience throughout two-day program. During the class, Mike will show you how to leverage the latest AI technology to create graphics. Pus, attendees will receive a one-month subscription to the Build-a-Graphic add-in for free, Mike's Billion Dollar Graphics ebook, 200 editable graphics, and other graphic resources.
The TechLearn 2023 Conference is from September 19–21 in New Orleans, Louisiana (USA). Pre-conference certificate programs run from September 18–19.
Register before July 14 and get an early bird discount of $300 off the conference fee. Also, save $150 more on your registration for the conference, certificate programs, or both when you use code CSP01.