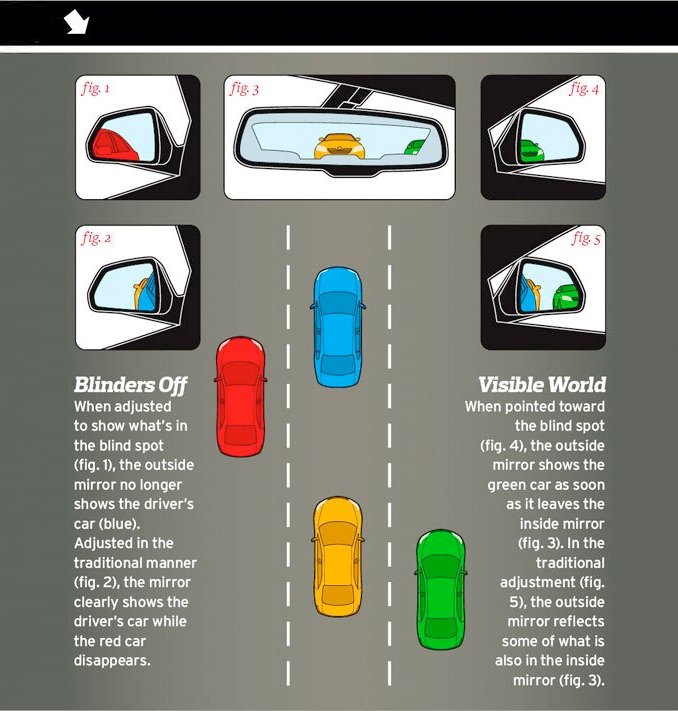 Drive safe. Learn how to eliminate blind spots with this handy infographic coupled with the following instructions I found this on Quora…
Left mirror: while your head is touching the left window adjust your left mirror, so you just don't see the side of the car Fig. 1.
Right mirror: move your head to the middle of the car and do the same with the right mirror Fig. 4.
Every road user; a motorcylist, a car driver, a truck driver and any other inhabitants of the road should follow the instructions that are listed above when it comes to checking your blind spot.
Why? Because it could help to save a life, maybe even yours and that of the people who are closest to you.
When you're learning to drive, you get taught all of the components you need to stay safe on the road, and once you've passed your test, it is still essential that you carry on with these practices. Otherwise, you may need to speak with a car accident attorney in Bakersfield, as unfortunately, many people forget about this important area of driving, and it could be one of the many reasons why so many accidents happen across the country, and the world, on a daily basis.
There are so many people who have been required to contact a personal injury lawyer in their area, (click here for more) because they've been involved in an accident through no fault of their own and they want to file for compensation to help with any medical bills and rehabilitation treatment they may need to have due to their accident.
Did you know that something as simple as checking your blind spot during your journey can help you to see everything going on in the world around you, therefore you are prepared for any eventuality that could be thrown your way; decreasing the number of accidents in the process.
So, follow these instructions and save a life!
Thank you for sharing, Andre!